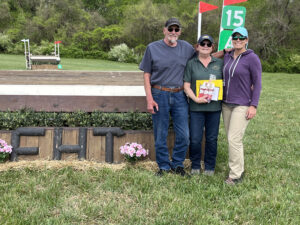 The Duke Family, April Recognized Horse Trials
We value all our volunteers, but at our April 22 Recognized Horse Trials, we had to give a shout-out to The Duke Family. Aislinn Duke arrived to XC judge at Fence 15 with her mom, Linda and her dad, Randy. This family stands out because they have been coming for 20 years to sit on a jump for FHI, together! It is a family tradition, and they would not dream of missing it.
Aislinn says it began when she was a member of Pony Club. Linda and Randy were there at every Pony Club function helping, guiding and supporting the members of the club. In 2002, the three of them came to spectate at Fair Hill, and the following year they came to volunteer and have been sitting on a jump ever since. What a history and tradition! Aislinn says that she has ridden at Fair Hill with her now retired Thoroughbred, Levi. Levi and Aislinn not only evented, but they also completed the Pony Club B rating, with Aislinn ultimately achieving her HA certification before aging out. After eventing, Levi took her into the jumper world. However, the jump judging tradition never wavered. All three of them look forward to the day together. Not only do they love greeting old friends who also jump judge or volunteer in other capacities at FHI, but they have watched our competitors as they moved through the divisions and developed their skills. Aislinn says with enthusiasm, "It is a thrill to applaud the success of the competitors every year!"
Aislinn no longer rides Levi, but happily accepts catch rides for fun in her free time. As happens to all of us, she has grown up and now works full time for Johnson & Johnson Surgical Vision in the Product Safety Division. Pony Club days are in the past, but the tradition of Fair Hill calls the Duke Family back every year. The three of them consider their time siting in the lawn chairs by their pick-up truck, calling into control as each rider passes through, a true gift and a way to emphasize the importance of family time. They started as a family in Pony Club, and those times have morphed into the Fair Hill tradition of a day in the country watching Fair Hill develop its courses and become an important steppingstone for riders.
The truth of the matter is that Fair Hill is an important part of the lives of all our volunteers. It is a family affair for The Dukes, but it is also a Family Affair for each one of our wonderful volunteers. You make the job of running our events a pleasure and a source of true friendships. We all look forward to visiting and catching up as well as keeping track of the participants, wishing them all success!