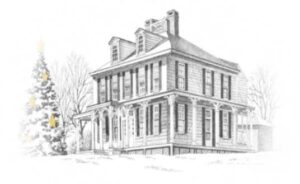 A Christmas Gala

A holiday OPEN HOUSE to benefit Fair Hill International.
Great food, merriment, auction.
Hosted at The Iron Master's Mansion, Perryville, Maryland.
Saturday, December 3, 2022.
The evening will include:
All inclusive heavy hors d'oeuvres, beer, wine and soda
Silent Auction table
All sales are final, thank you for your donation
Sponsored by the Maryland Horse Industry Board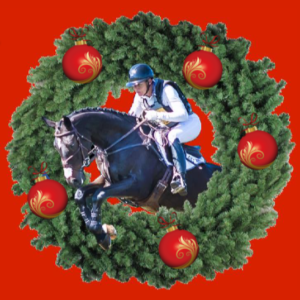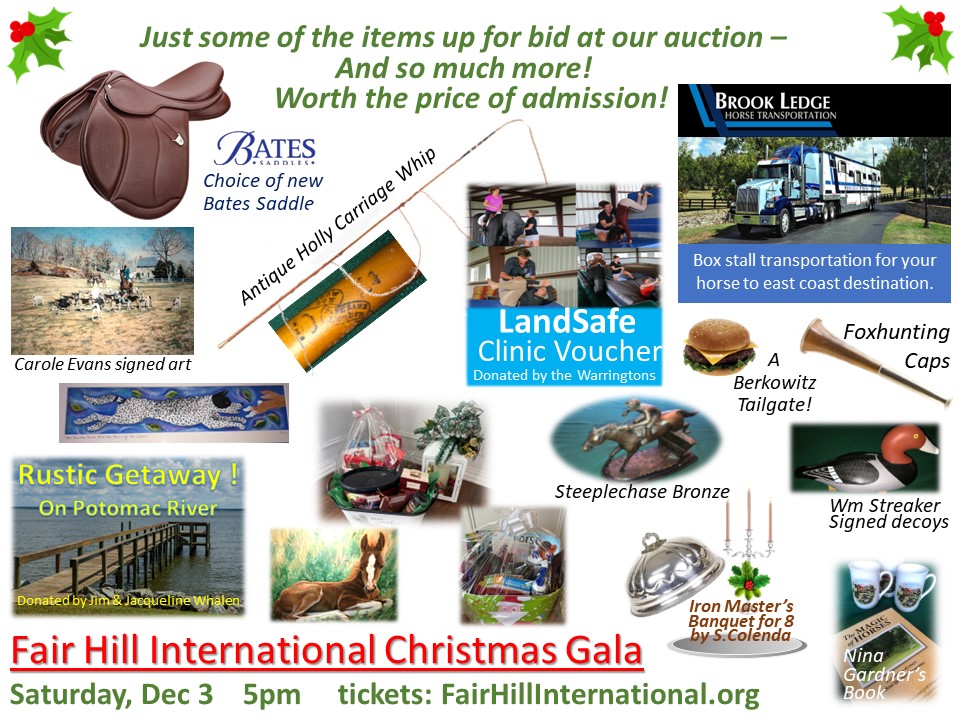 A Christmas Gala SILENT AUCTION
With thanks to some very generous donors, we have some incredible Silent Auction Items up for grabs!
| | |
| --- | --- |
| Item | Donor |
| Bates Saddle - Choice | Bates Saddles, Allie Sacksen |
| Brook Ledge Box Stall Transport | Will Phipps |
| Rustic Cottage Getaway, Hague, VA on Potomac | Jacqueline & Jim Whalen |
| Antique Holly Driving Whip | Anonymous |
| Iron Master's Dinner for Eight | Sarah Colenda |
| Original Oil Painting of a Foal by Clarke | Tim & Nina Gardner |
| LJH Eventing: Lillian Heard Lesson | Lillian Heard |
| Berkowitz Tailgate Package | Steve Berkowitz |
| Berkowitz Custom Photo of Your Mount | Steve Berkowitz |
| Flight of Local Honey | Rupert Rossetti |
| LandSafe Clinic | Danny & Keli Warrington |
| Charcuterie Boards | Lisa Szczerba, Briar Fox Farm |
| Live Equestrian Wreath | Kathie Troutman |
| Live Cowboy Horse Wreath & Boot | Kathie Troutman |
| 2 Pair Wm Streaker Carved Duck Decoys; signed | Rita Benedict |
| Capt. Bill Collins Duck Decoy Print | Rita Benedict |
| "Ready to Go" Fox Hunting in FH; signed, framed print | Carole Evans (artist) |
| "Simply Golden" Natural Flower Arrangement | Jeannette Hudson |
| Fairwinds Farm Basket | Joann Dawson (author) |
| Bucket of Horse Products | Equifit |
| Erin Sylvester Lesson | Erin Sylvester |
| Equine Massage | Maija Luttinger |
| Veterinarian Small Animal House Call | Karen Clark Rubin, DVM, Buck Run |
| Cecil County Basket | Cecil County Tourism |
| Randalia Farms Basket | Lee Vosters |
| Mt Harmon GC/ Wicomico Point to Point | Lee Vosters |
| Fox Hunter Wine Glasses | Jacqueline Whalen |
| Cap for a Wicomico Hunt (incl. use of a horse) | Wicomico Hunt Clug |
| $50. Gift Cert. DaddyO's Restaurant | DaddyO's Kemblesville |
| Memo Board/Shelf | Allie Sacksen |
| Fox Hunting Breastplate | Beth Diamond |
| Fox Hunting Mysteries/ Pin | Beth Diamond |
| Picnic Basket of Fun | Colenda, Troutman, Pragg |
| Hilltop Breeder Gift Certificate | Hilltop Farm, Inc. |
| Christmas Wreath | Sarah Colenda |
| One Entry to MCTA @ Shawan Downs HT 2023 | Chris Donovan |
| One Entry to MCTA Jenny Camp/Starter HT 2023 | Chris Donovan |
| Hair Care Products | Dana Dixon/South Mane St Salon |
| $100 Gift Card from "The Mill" | The Mill |
| Steeplechase Bronze Statue | Tim & Nina Gardner |
| Fox Hunt Tea Cups/Tray/ Book | Nina Gardner |
| "The Magic of Horses" by Nina Gardner | Nina Gardner |
| "Horse Show Girl" Antique Ink on Silk of Driving Lady | Nina Gardner |
| Tastefully Simple Basket | Lisa Pragg |
| Wiilowdale Steeplechase Tailgate Spot | Willowdale Steeplechase |
| Brandywine Polo Tailgate Pass | Brandywine Polo |
| A Fox Brace Hand-painted Bench | Fran Loftus |
| Flinn Design Signed Art: "Thrill of the Chase" | Sherry Kitto |
| Romance with a Kick Gift Basket | Todd and Sarah McGregor |
| Noble Grooming Bag | Noble |
| Paws For Life Doggie Basket | Paws For Life |
| Buckworth XC Schooling | Ginny Cole & Annie Renzetti |
| MidAtlantic Horse Rescue Basket | MAHR |
| Handmade Wool Christmas Mice | Lesa Griffiths |
| Charles Wysocki 1989 Christmas Unframed Print, Signed | Abbey Ulher |
| Baking Bucket | Lisa/Beth |
| Candle Basket | Lisa Pragg |
| Wellness Sessions | Melissa Carson/Pete Mazzeo |
| A Christmas Brass Horn | Stacey Blyskal |
| A Mystery Box | FHI |
| Antique Dressage, Horse Books/ Pins | Sandy Ulher, Troutman |
| Dressage Lesson with past Olympian Donnan Sharp | Donnan Sharp |
| Christmas Lantern | Colenda/Pragg |
| Chiropractic Treatment | Jamie Minnelleri |
| Chiropractic Treatment | Patty Blakeslee |