About Us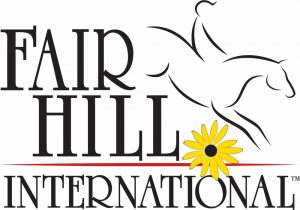 Since 1989, Fair Hill International has offered one of the most prestigious international three-day events in the world, located at the Fair Hill Natural Resource Management Area in beautiful Fair Hill, Maryland. Beginning in 2021 that event will be known as the Maryland 5 Star at Fair Hill, one of only seven five star events in the world. Fair Hill International will be responsible for administering the competition aspect of that event.
Eventing is the ultimate test of a horse and rider and has been referred to as the Triathlon of equestrian sport. Through tests in dressage, cross country, and show jumping, the horse and rider work together to show that they can compete in the most demanding and highest levels of equestrian sports. Please see our "Spectators" menu for more information on Eventing.
But Fair Hill International is much more than top level Eventing. With a motto of "From Green to Gold" we provide opportunities all season long for riders of all levels to train and test their mounts through schoolings, clinics, Starter Trials, and Nationally Recognized Horse Trials from 'green' novices to 'gold' medal winners. We also annually hold a Combined Driving Competition (Elk Creek carriage driving event), and the Foxcatcher Endurance Ride. We are a non-profit, largely volunteer, organization and welcome you as a competitor, spectator, sponsor, supporter or volunteer, to join our team!
Fair Hill International does not and shall not discriminate on the basis of race, color, religion (creed), gender, gender expression, age, national origin (ancestry), disability, marital status, or sexual orientation in any of its policies, practices or activities.