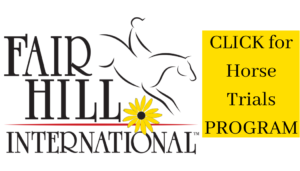 Welcome to Fair Hill International!
FHI's mission is to assist in the development of the rider and horse, in the sports of eventing, endurance and combined driving, from "Green to Gold." We offer a variety of competitive and schooling events from April through October.
CLICK ON EACH PHOTO TO LEARN MORE ABOUT OUR EVENTS
We ask that all spectators abide by our SPECTATOR PROTOCOL (SEEN HERE).
We always need volunteers – more info here.