2023 Cross Country Schooling Information
Schooling registration will open approximately one week before the schooling date.

You MUST pre-register, and schooling slots are limited. WHEN YOU REGISTER FOR A TIME SLOT, PLEASE ATTEND AT THAT TIME AND ONLY THAT TIME!
Course levels available: Look closely at the calendar. The level of fences available for schooling will vary depending upon the levels offered at the previous competition
Cross Country Schooling Weather Info: Please check our FaceBook Page
Questions? Email ColdrensCorner@gmail.com
PARKING is in Bodgie's Field. Enter off of Gallaher Road.

*Cost is $60 per horse – you MUST have pre-registered and paid online.
*The gates to the parking area will open 30 minutes before schooling begins.
*Schooling will BEGIN and END promptly at the stated times.
* JUMPING RIDERS must wear a body protector.
ALL RIDERS (including non-jumpers/ mounted friends – ie: anyone on horseback) MUST...
Sign a Release (done when you pre-register)
Obtain and wear a pinny
Wear a helmet secured with a chin strap harness
Wear footwear with a heel
Medical armband is strongly recommended
If there is a question about the weather, please check our FaceBook page after 12 noon on Tuesdays, or after 9am on weekends – we will always post schooling status there.
All sessions will START and END promptly at the times indicated.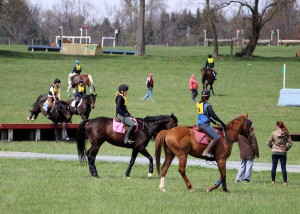 LOOKING FOR SHOW JUMP SCHOOLING INFO? IT'S DIFFERENT IN 2022!! PLEASE VISIT THIS PAGE (CLICK LINK)