WELCOME TO FAIR HILL INTERNATIONAL!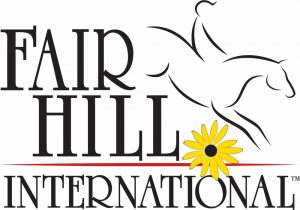 With a motto of "From Green to Gold" Fair Hill International provides opportunities for riders of all levels to train and test their mounts through schoolings, clinics, Starter Trials, and Nationally Recognized Horse Trials – from 'green' novices to 'gold' medal winners
Fair Hill's gently rolling terrain, meandering streams, and thick, lush turf make it the ideal venue for eventing. Its location, halfway between Baltimore and Philadelphia in Fair Hill, Maryland, makes it a popular competition destination.
Fair Hill International runs on the property of the Fair Hill Natural Resources Management Area.
---
NEWS:
Congratulations to the winners in our inaugural Fair Hill Saddlery Starter Trials Series!
Novice:
Champion – Kym Licup and Amandare
Reserve Champion – Steve Berkowitz and Ricardo
Beginner Novice:
Champion – Audrey Sims and Southern Drifter
Reserve Champion – Veronique Mallet and Southern Bay
Intro:
Champion – Eve McMahon and City Kitty
Reserve Champion – Gregory Newell and B E Victory Dance
Elementary:
Champion – Amy Magee and Lasting Impression
Reserve Champion – Lacy Barlow and Misty's Storm Chaser
---
Our Next Event
No Events
THANK YOU FOR SUPPORTING FAIR HILL INTERNATIONAL!