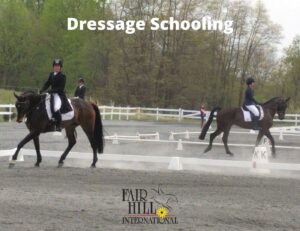 2023 Dressage Schooling Information
Schooling registration will open approximately one week before the schooling date.

Schooling slots are limited. We encourage you to pre-register! Large ring and Small ring are only available at specific times.
We offer times for both Large and Small arena tests – you pick the test!
Dressage Schooling Weather Info: Please check our FaceBook Page
Questions? Email ColdrensCorner@gmail.com
PARKING depends on the location of the schooling. Gallaher Road schooling will park in Bodgie's Field. Foxcatcher Ring schooling will park at the Race Barns.

*Cost is $35 per test.
*Check-in will open 30 minutes before schooling begins.
ALL RIDERS MUST...
Sign a Release (done when you pre-register)
Obtain and wear a bridle number
Wear a helmet secured with a chin strap harness
Wear footwear with a heel
Medical armband is strongly recommended
If there is a question about the weather, please check our FaceBook page after 9 am on the day of the schooling – we will always post schooling status there.