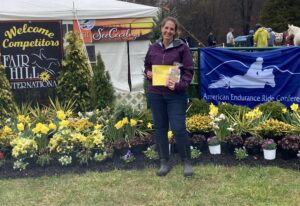 Alissa Norman, Foxcatcher Endurance
Alissa comes to us from Virginia. She grew up in Ithaca, NY but traveled to Virginia Tech for college and never really left the state until moving to Maryland. She started riding when she was 8 and rode in college. Then, she was stable manager for several colleges, the last of which was Sweet Briar College. Once in Maryland, she had a horse and evented beginner novice at Fair Hill during the early years. Once her children were born, she sold her horse and concentrated on family. She has a 14-year-old son, who loves video games and learning to fly, and a 10-year-old daughter, who loves riding once a week.
An elementary school art teacher, who was a family friend, lived in Maryland and was the vendor coordinator for the Fair Hill October event. When Alissa moved to Maryland in 2003, her friend suggested that she volunteer at Fair Hill because the job was fun and the people were "great." Alissa took her friend's advice, and here she is, 20 years later, still volunteering and will tell you the same thing…the people are "great."
She now works for several steeplechase related events and organizations. However, everything really started at Fair Hill International. She had no experience with internet related work or marketing experience. She was on the organizing committee of Fair Hill because she ran the special events at our October CCI and Festival in the Country. When this committee identified a need for internet related things, blog and marketing updates, they chose Alissa to handle it all as she was the youngest member of the committee. Alissa, guess what you get to do????
She is a self-taught skilled internet and marketing guru. Fair Hill is why she does what she does. Working at Fair Hill gave her the access to develop her skills and to the many people involved with the horse world. It turned out that the experience gained at Fair hill led to her present career. Alissa's first paying job was with the Maryland Horse Breeders Association, running special events and sponsorship solicitation. She would not have gotten that job if she had not worked at Fair Hill learning the skills for special event planning and running the North American Endurance Championships in 2005. This experience launched her career with horse related organizations.
Alissa advises that you can volunteer at Fair Hill, and you just might be able to move into a career! You can gain many skills, especially if you get involved in the opportunities with our marketing group and our sponsorship group. There are many on site needs for hospitality and artistic creativity. You learn skills and meet lots of people. It is a networking mecca.
People who work at FHI come back year after year because of the friendships that are made as they work together. Our comradery is the best aspect of volunteering. We are thrilled that Alissa continues to support FHI and is an integral member of our merry band!