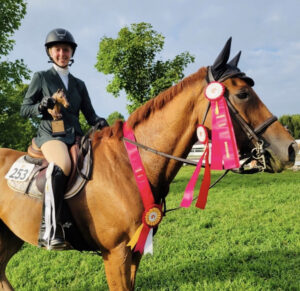 The fastest two minutes in sports is a dream for many race horse owners and trainers. But the brutal reality is that over 3,000 Thoroughbreds will retire each year due to injury or lack of winnings. The Jockey Club, who registers race horses and their breeding, created the Thoroughbred Incentive Program (TIP) to help persuade owners to retrain Thoroughbreds for a second career in a different discipline rather than see them go to slaughter. Owners who have an off-track Thoroughbred can check their horse's eligibility through The Jockey Club website. If an owner is struggling to find information, The Jockey Club will offer to help research the horse's lineage and tattoo.
Once a horse is registered with the TIP program, the owner is responsible for self-reporting wins and awards from approved competitions. Successful riders can compete at the annual TIP championships in Aiken, South Carolina and receive financial incentives. Fair Hill International is an approved competition and we are offering TIP awards at all Recognized and Unrecognized Trials this year. Beyond awards, The Jockey Club and TIP website also offer educational resources on care, training, and retirement for Thoroughbreds.
Savannah Lacey is a senior in high school and lives in the Fair Hill area. She is the proud owner of a 12 year old off the track Thoroughbred (OTTB) named Benny Time. Benny Time spent six years racing and had lifetime earnings of $118,000, but an injury in 2017 ended his racing career. Now, Savannah has teamed up with Benny for his second career. She competes with Benny in a broad range of disciplines, including show jumping, hunter, dressage, and even barrel racing. As Savannah puts it, "OTTBs know what it is like to work hard and are always thankful for attention and a purpose in their retired racing careers. These equines are so athletic and with proper training and time they become the best showing teammates."
Savannah applied for the TIP program after hearing comments like "Are you going for the TIP awards?" at competitions. She said the application process was very simple and there are even videos to walk you through step by step. One of the biggest benefits to Savannah is that "Once you have a personal account you even have the option to add more than one OTTB under your account. A 'TIP number' is different for each horse, not specific to the rider/owner."
The impact of the TIP program has been enormous for Savannah and Benny Time. Savannah says "Going and winning small battles and reaching little goals at these shows was noticed and rewarded by the TIP program. These led me to have bigger goals, and kept me wanting to get more involved with my OTTB. I believe if the TIP program was not a part of my OTTBs career I would not be at the point I am today." She wholeheartedly recommends joining the program, especially with the large number of OTTBs and riders in the Fair Hill area. "When taking part in special divisions just for Thoroughbreds I met the nicest people that thoroughly  enjoyed everything about their OTTB. The friends and opportunities under this program are endless, and in our area there is always a chance to come across your next OTTB teammate."
Savannah was lucky enough to celebrate her involvement with the TIP program in two ways – acting as a youth ambassador in 2022 and making it to the TIP championships in fall of 2021. In her role as a youth ambassador, Savannah brought TIP awards to Cecil County 4H and made it part of the TIP qualifiers. At the championships, Savannah and Benny competed in three foot show jumping and in-hand showmanship. They placed third in showmanship and 7th in show jumping (including a round that was double clear). Savannah says "The championship gave out wonderful prizes and made everyone feel proud of their accomplishments. I met so many other wonderful OTTB lovers who I still keep in touch with today. The days were filled not just with showing, but getting to enjoy staying on property in the hunt boxes and watching the other disciplines compete as well."
TIP awards are being offered at Fair Hill International's Recognized and Unrecognized Horse Trials in June and in August. The results from the May Recognized Horse Trials can be found HERE. Upon registration, a competitor simply enters their TIP number to be eligible for the awards, which they can then self-report to be considered for TIP Championships. For more information on any of Fair Hill International's competitions, please go to www.fairhillinternational.org, follow us @fairhillint on Twitter and Instagram, and at Fair Hill International on Facebook.
(By Claire Griffiths, FHI Social Media)