A Horse Playland – Pony Rides Included!
Bring the family and all your friends to our Spring Fling Saturday, April 22 from 11-3 pm. Being held in conjunction with our Recognized Horse Trials, we are reinventing some of the family fun from our previous October Festivals – all free and open to the public.
Pony rides
Horse games and crafts, horse tattoos
Photo ops with Billie the Movie horse or a life-size Roy Rogers
Guided dog walk
Goat petting
Stick horse jump course
Corn hole
Wagon rides
Hospitality tent with free refreshments!
The Maryland Horse Industry Board will be on hand showing their newest film about the MD Horse Park System
Emily Kilby, Fair Hill historian will lead an animated walk past several ruins
Music with J.W. River-Rat
Corn box filled with footing and a ton of toys
Bring the kids with their "competition day sitter" and turn them loose!  All spectator parking will be at the North Gate off Gallaher Road and signed accordingly.
Email staceyblyskal0615@gmail.com to Volunteer for the Horse Trials or for the Spring Fling!
Entertainment for bigger "kids":
Reserve a RINGSIDE PARKING SPACE for front-row reserved seating overlooking the duPont Arena for the entire weekend.
Tailgate there or visit the THIS Hospitality Tent.
Are you a competitor or their entourage? Visit the Triple Crown tent in the trailer/stabling field through the tunnel.
Looking for a place to SIT and WATCH? We will have bleacher seating at key points this year.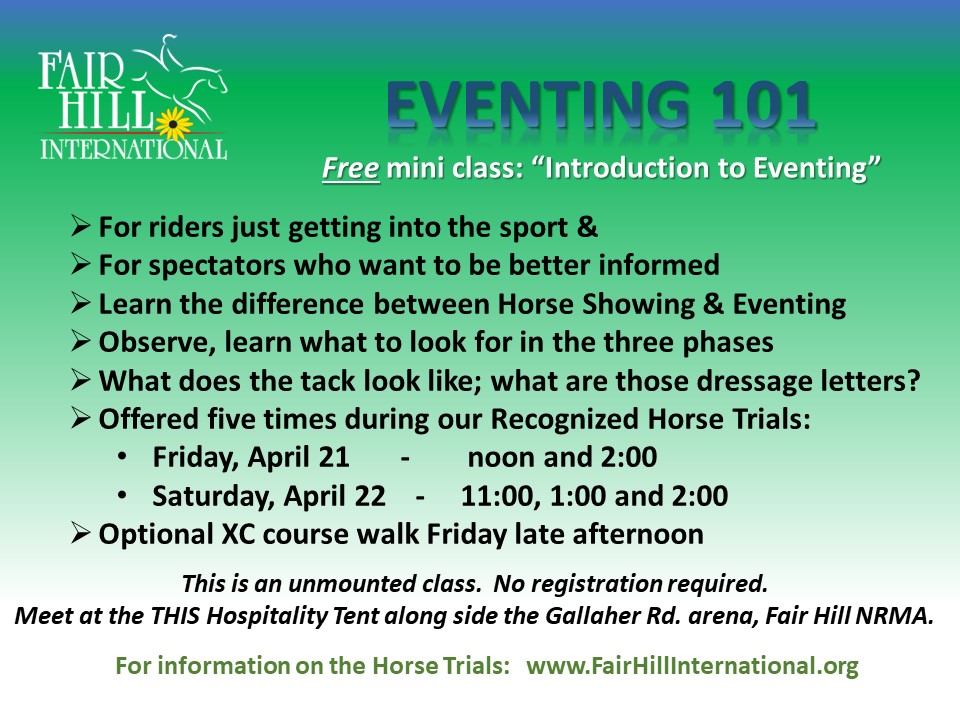 Know someone who wants to learn a bit more about this great sport? Sign up for EVENTING 101. This intro to the sport mini course will meet with a professional rider Friday and Saturday, observing and critiquing live eventing! It's free too, but please register. (If you are also volunteering, we will work with your volunteer schedule so don't give that up!)
Stay in the loop for future FHI events – more information can be found at fairhillinternational.org, or follow us on Instagram, Twitter, and TikTok at @fairhillint and like us on Facebook.