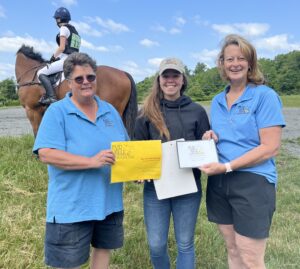 Kristina Jerrell, May Recognized Horse Trials
Kristina lives in Oxford, PA and is a familiar face at Plantation and now at Fair Hill. She is an experienced rider on her "perfect unicorn," Lucky Limbo, a 17 hand Danish Warmblood, whose owner is kind enough to allow her the ride. Being 5'2" her ride on Limbo is quite a sight! Her experience has not been in eventing. She has competed 3' 6" Jumpers, done Hunter shows, fox hunted and now is concentrating on Dressage. She has nothing but good things to report about her trainer, Kris Poole, at Pink Ribbon Farm and Jim Herr, Lucky Limbo's owner.
Kristina is all about being the best warm up steward for show jumping that is possible. She loves getting to know each rider. She also loves to know the trainers and even the parents, learning what each one needs and making things happen for the competitor so that they can do their very best. She says, "If someone wants a little extra warm up time, and I can make that happen for them, it makes my job a real benefit for the competitors. I am here to make the day better if I possibly can."
She plans to continue the volunteer path she is on. Maybe branching out to running scores might be in her future. About the show jump warm up she comments, "I thrive on chaos!" Sounds about right, don't you think?