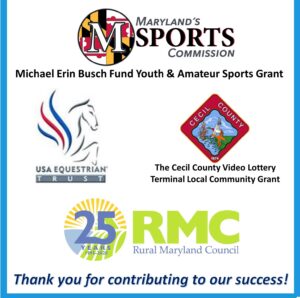 Exciting things are happening at Fair Hill! Assisted by grants for specific use, Fair Hill International (FHI) is starting on a multi-year plan to upgrade the cross country courses, improve footing, add a new level of competition and broaden our reach to potential competitors and spectators for 2023 and beyond.
The long range plan sees FHI enhancing the Gallaher Road site of the Fair Hill NRMA to benefit all levels of competition for the three recognized horse trials. This site had been primarily used for just upper level events. The excellent turf and terrain, as well as additional acreage, will contribute to the development of exciting cross country courses at all recognized levels.
A grant from the US Equestrian Trust has helped FHI begin making alterations to some permanent features, including ditches, banks and water obstacles. This will provide course designers more options when designing the Beginner Novice through Preliminary levels.
A local grant from the Cecil County Video Lottery Terminal program supported the development of a cross country course at the USEA/USEF's Modified Level, which ran at the May Recognized Horse Trials and will run at the August Recognized Horse Trials. This level has become very popular with riders, and we hope it will add a new opportunity for our competitors.
The Rural Maryland Council's grant is geared to the development of the Modified Level course, which will require a number of new jumping efforts; both permanent and portable. Some jumps may be dual purpose for other levels as well. Improvement of footing and galloping tracks will also benefit from the grant.
The Maryland's Sports Commission's Youth & Amateur Sports Grant and Michael Erin Busch Fund has a somewhat different purpose; part is to be used to enhance the FHI April CCI event by adding spectator amenities, such as bleacher seating, a hospitality tent, and additional food offerings. In April this year, we instituted a family fun day called "The Spring Fling," which attracted over 200 people, young children and adults, who played games, enjoyed music and viewed the concurrent horse trials. We would like to grow this event into an attraction for both riders and the non-riding public. Cross country courses will also benefit, with new jumping efforts and groundwork.
Stay tuned for further updates!