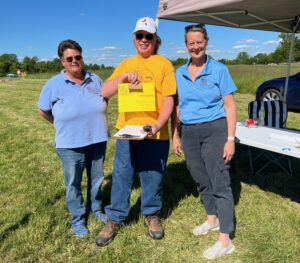 Fred Vosbury, May Starter Trials
Fred travels from Downingtown, PA and seems to show up for most every event. He started taking his daughter to Radnor to watch the two-star (equivalent now to a three-star level) international three day event. Then, he started volunteering and was a faithful volunteer at Radnor until it stopped hosting international events in 2006. They took a break during the college years. His daughter returned home for grad school and requested to bring along her two horses. Of course, he said yes, and he became "The Eventing Dad" in the early 2000s.
He began volunteering at Fair Hill about ten years ago at the October Three Star event. He was a jump judge with his daughter, but FHI just could not hold him back! He became an area steward, primarily helping the jump judges in his assigned area deal with any problems that occurred. Then, for several years, he was the stopping steward, who controls an area when there is a hold on course and restarts the rider when instructed. Now, we will find him at the XC Start Box. Sometimes he starts the riders and other times he records the finish. He loves talking to all the competitors as they circle the start box and feels that they always express their appreciation to the volunteers for helping. He loves to see the young riders progress through the levels and enjoys seeing our Olympians using the FHI course for practice and working for perfection.
Once retired last year, Fred has been searching for what else he can do for Fair Hill. His daughter lives near our venue, so he loves being up here. He is ready for more action. We are sure he does not have to ask twice. We are going to move him to the top of our volunteer list!