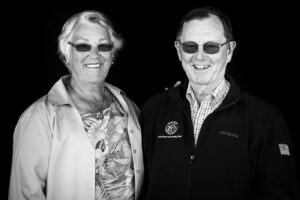 Reprinted with permission from the US Eventing Association. See original post HERE.
Nina and Tim Gardner are longtime supporters of the sport of eventing. The couple has participated in the sport as owners, volunteers, and breeders for more than 25 years, receiving the highest honor awarded in eventing in the U.S. when they were inducted into the USEA's Eventing Hall of Fame in 2018. Anyone who has had the opportunity to talk to the couple will know that Tim bashfully gives all of the credit to Nina for cementing their legacy within the community.
The Gardners have been breeding horses for more than 40 years, but their story didn't begin with eventing sport horses. "We moved to the countryside in Maryland in the late 70s, and we added a bit of property that included a lovely barn," Nina explained. "Tim thought, 'If we start breeding Thoroughbreds ourselves, we can probably do a good job,' so that was basically how we started. We bought Thoroughbred mares in foal at the sales, then foaled them out and sold their babies as yearlings. Our goal was always to produce all-purpose Thoroughbreds."
While running their blossoming Thoroughbred breeding program and foxhunting herself through the Maryland countryside, Nina discovered eventing and took a quick interest in the sport. "I had a Thoroughbred mare off the track, and I bred her to a Trakehner in the hopes of getting a quiet, larger animal, and of course I got a nervous, smaller animal. That was my first lesson in breeding!"
Not to be deterred, Nina continued to breed some of their less commercial Thoroughbred mares at the couples' Welcome Here Farm to various breeds of sport horse stallions in the hopes of creating the perfect eventing partner.
READ THE FULL STORY HERE ON THE USEA WEBSITE